Self-financed
inspection
Prior reservation
prioritized
PCR Test (saliva samples or nasopharyngeal swab)
Results shown
3
rs~
at the earliest
Travel Abroad
COVID-19
Certificate
issued
Quantitative
Antigen Test
Qualitative
Antigen Test
Results shown
1
hr

30

min

~

at earliest
Designated
inspection institution
by Chinese embassy
PCR test・
Qualitative antigen test
(rapid antigen test)
About PCR Inspection
We have opened
COVID-19 Testing
inside Kansai
International Airport
for travel abroad.
This PCR inspection clinic is an international airport facility with a PCR test laboratory, issuing a COVID-19 certificate in as early as 3 hours from the receiption. In addition to the PCR test, the system supports the quantitative antibody test and Qualitative Antigen test to meet various examination methods for travel requirements.
RT-PCR Inspection(at earliest 3hrs~)
Nasopharyngeal Swab
Saliva Sample(COVID-19 Certificate fee included)
22,000yen each
Antigen (at easiest 1hr 30min~)
Quantitative Antigen
Qualitative Antigen
11,000yen each
This test is only for those traveling to Vietnam.
Self-financed examination. Credit Card Only.
For sanitary reasons, we do not accept cash.
Information
7/27/2022~ Qualitative Antigen Test (RAT) appointment reservation spot limited.
Due the increase of COVID cases in Japan, we are currently experiencing a shortage on RAT kit supply.
We will be limiting the reservation spot for RAT until the test kit is fully secured.
2/28/2022 ~ Registered as an inspection organization designated by Chinese Embassy.
※Travel rules of each country may change prior to entry.Please check the latest information before booking an appointment.
updated: 5/20/2022 Information update for traveling to China
Latest measures for pre-travel testing and health code application
(http://jp.china-embassy.gov.cn/chn/tztgnew/202205/
t20220505_10681663.htm)
※Travelers making an appointment through TeCOT, please submit both your Japanese and Chinese phone number at the main reception.
3/28/2022 ~ PCR test to shorten quarantine after returning ・enterning Japan available.
4/1/2022 ~ Qualitative Antigen test designated for traveling to Vietnam available.
Examination Steps
Appointment Website
or
Phone call
Arrive at
reservation
reception
counter
Body
temperature,
medical
questionnaire,
document check
Payment
Medical
examination,
COVID test
COVID
certification
issue
Appointments can be reserved from TeCOT(Testing Center for Overseas Travelers) managed by the Ministry of Health, Labour and Welfare and the Ministry of Economy, Trade and Industry.
Certificate Issuing
〈PCR Test〉
Appointments from12:00~18:00 
→ Test results notified on the day※2
Appointments from18:00~20:30 
→ Test results notified 12:00~ of the day after
Re-examination may cause a delay of the test results until the next day.
〈Quantitative Antibody Test・Qualitative Antigen Test〉
Appointments from12:00~19:30 
→ Test results notified on the day
Appointments from19:30~20:30 
→ Test results notified 12:00~ of the day after
For those traveling from a far to receive examinations, please make sure to have enough time until the departure.
PCR Inspection Clinic Location
Terminal 1 Floor 4
①Specimen Collection
Nasopharyngeal swab

②Specimen Collection
Saliva sample
Examination Fee
■ Examination・COVID-19 certificate fee (tax included)
| | |
| --- | --- |
| Test Types | Fee |
| RT-PCR Test | 22,000yen |
| Quantitative Antigen Test | 11,000yen |
| Qualitative Antigen Test | 11,000yen |
Credit card payments only, no cash.
Examination Details
Examination Details
RT Molecular PCR Test
Nasopharyngeal Swab (a nurse inserts a cotton swab into the nostril and swirl)
Caution: Please refrain from using eye drops or nasal drops on the day of the examination.
Saliva Sample (self-administrated)
Caution: Please refrain from eating, drinking, or brushing teeth 30 min before the examination.
Quantitative Antigen Test
Nasopharyngeal Swab (a nurse inserts a cotton swab into the nostril and swirl)
Caution: Please refrain from using eye drops or nasal drops on the day of the examination.
Qualitative Antigen Test
Nasopharyngeal Swab (a nurse inserts a cotton swab into the nostril and swirl)
Caution: Please refrain from using eye drops or nasal drops on the day of the examination.
Inspection Equipments
Inspection Equipments
Real Time RT-PCR Method
Reagent name DetectAmp™ SARS-CoV-2 RT-PCR kit
Terms and Conditions
The applicant must be a passenger planning on taking the PCR test for overseas travel and meet the following conditions.
Terms and Conditions
Travelers with a valid
passport
Travelers with fixed travel
date and destination
Travelers with appropriate forms for the destination
(Please refer to the website of the Ministry of Foreign Affairs of Japan or website of the Embassies of your country)
Travelers with no symptoms of fever above 35.5℃, cough, or chemosensory disorders
Travelers with an understanding of re-examination necessity
Travelers with a positive result agree to return to their home or other location after securing their own means of transportation, excluding public transportations, and follow the instructions given by the health centre for isolation and treatment.
(Please understand that in this case, passengers will be responsible of covering their cost)
Kansai International Airport PCR Inspection Clinic Certification sample
Our clinic issues COVID-19 certificate only in paper from.
Please make an appointment from TeCOT to receive digital form.
QR code will not be printed on the certificate.
【Travelers to China】
Certificate is issued following the format designed by China.
Postal address, name of the visited country, address of the visited country, and the date of the entry will not be listed. If travelers require any of the information above, please make an appointment via TeCOT.
The information entered in TeCOT will be directly reflected on the COVID-19 certificate. Please make sure to enter the exact same information as appeared in the passport.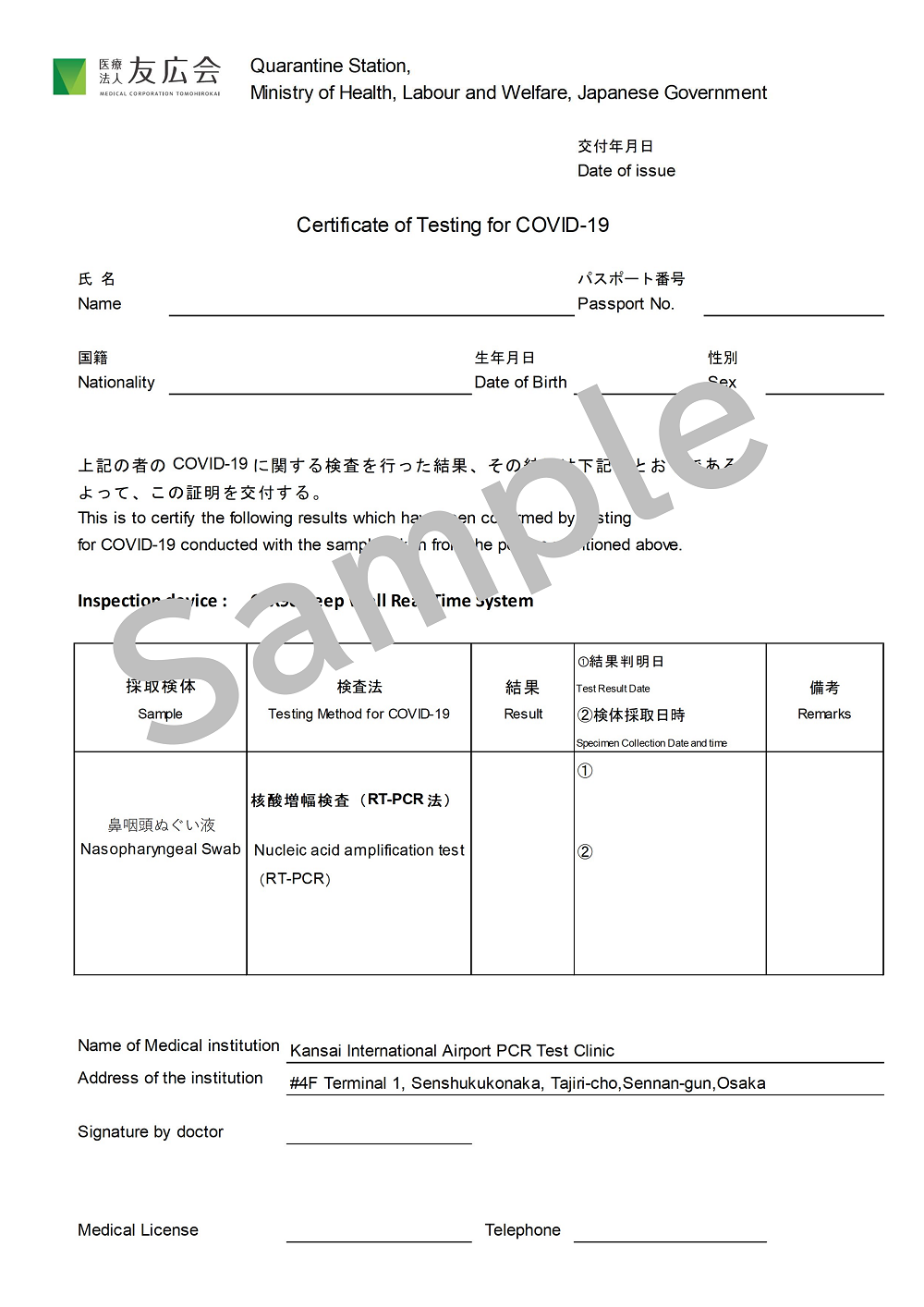 Procedure to take when infected with COVID-19
Following the guidelines by facetious Disease Control Law, infected travelers must be quarantined at home or in a facility designated by the government for 10 days to receive medical treatment.
As a general rule, travelers will be prohibited from taking all public transportations. They will be required to secure their own transportation using the company's car or rely on their family for transportation to the treatment facility.
If necessary, travelers will be asked to contact their airline.
Please note, that all test examination fee is nonrefundable.
Precautions
Please wear a mask and refrain from talking during the examination.
Travelers under age 18 must be accompanied by a parent to receive examinations. However, if a parent or guardian is unavailable due to any circumstances, please have a consent form signed by their parent or guardian and bring it with them on the day of the appointment.
If a proxy is picking up the various certificates, please bring the letter of power of attorney with them.
Depending on the results of the test, re-examination may be necessary. If the test result is not notified in time for your departure, you will be required to contact your travel agent or flight airline to change or cancel your flight reservation. The clinic will not be responsible for any costs of missed flights, appointment changes or cancellations.
Do not bring the luggage cart to the clinic. Please use the temporary storage unit for your luggage.
Our clinic specializes in self-financed medical care. We do not offer insurance consultations.